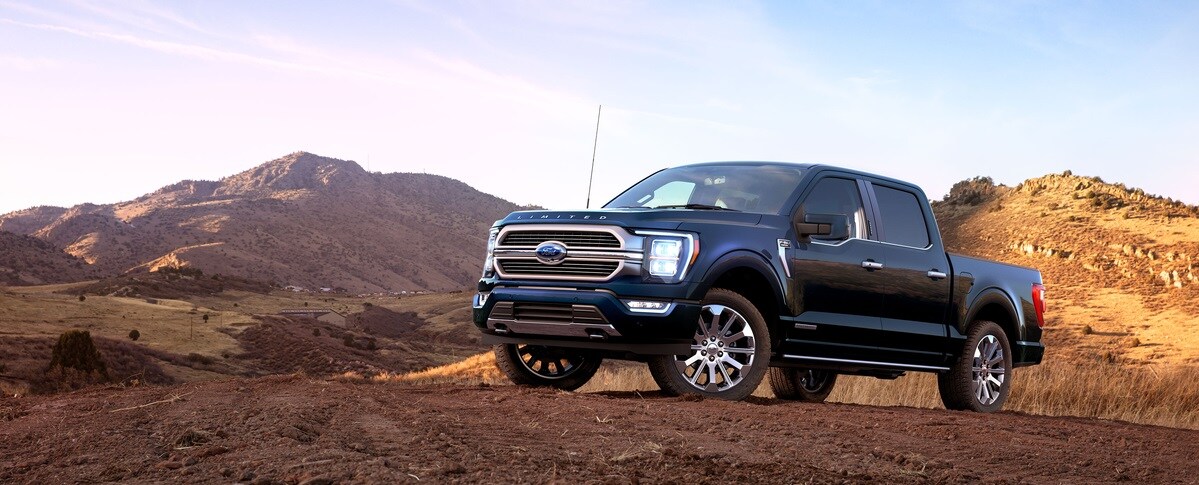 Explore the New 2021 Ford F-150 Inventory in Holden, MA
Would you like to maximize your capability on your Holden, MA job sites? Consider the 2021 Ford F-150 from Sunnyside Ford. This truck comes with features that will suit your needs and your budget. Consider our new Ford trucks if you need a versatile truck that stays ready for your toughest challenges. The new F-150 comes well-equipped for leisure and work, making it a great option for your Worcester adventures.
 
Updated Ford F-150 Models
We welcome you to come to our Holden, MA Ford dealership today to view the new F-150 trucks. Our Ford sales agents will share more information about the iconic Ford truck and help you design one that works as hard as you. The 2021 Ford F-150 comes with several changes for the new model year, including:
An all-new hybrid powertrain
A redesigned body and an all-new cabin
A 5.0-liter V8 and an Eco-Boost V6 for more power
A new onboard generator choice
Updated infotainment & tech features
2021 F-150 Engine and Performance Overview
The new Ford F-150 features six engine options to complement your Leominster commutes. The base version arrives with a 3.3-liter V6. The engine produces 290 horsepower and 265 pound-feet of torque. The engine achieves an EPA-estimated fuel efficiency rating of 20 miles per gallon (mpg) city and 24 mpg highway (2WD). On 4-wheel drive models of the F-150, the figures decrease slightly to 19 mpg in the city and 22 mpg on the highway. The 3.3-liter V6 engine comes standard on the entry-level trim models. It pairs to a 10-speed automatic for smooth shifts as you travel around Shrewsbury, MA.
Stepping up in power, the second drivetrain option reflects a 2.7-liter twin-turbo V6. It increases both horsepower and torque to 325 horsepower and 400 pound-feet, respectively. Its fuel economy comes in at 20 mpg city and 26 mpg highway for the 2WD models. On 4WD trucks, the numbers decrease to 19 mpg city and 24 mpg highway. The third powertrain offers you a 5.0-liter V8. It generates 400 horsepower and 410 pound-feet of torque, earning 17 mpg city and 24 mpg highway on 2WD trucks. On 4WD models, these figures come down to 16 mpg city and 22 mpg highway.
Next up, you can opt for a 3.0-liter V6 turbodiesel, which generates 250 horsepower and 440 pound-feet of torque. This engine features 4WD only. It achieves 20 mpg in the city and 27 mpg on the highway. With this engine, the 2021 F-150 tows up to 11,200 pounds around Rutland. The twin-turbo 3.5-liter V6 produces 400 horsepower and 500 pound-feet of torque. Its fuel economy comes measured at 18 mpg in the city and 24 mpg on the highway for 2WD builds. On 4WD configurations, the figures come in at 18 mpg city and 23 mpg highway.
The twin-turbo 3.5-liter V6 hybrid takes the top position for fuel-efficiency. It pumps out 430 horsepower and a torque of 570 pound-feet. This powertrain earns 25 mpg city and 26 mpg highway with 2WD and 24 mpg in the city and highway for 4WD versions. The gas Power-Boost drivetrain has a 35kWh electric motor. This system results in a towing capacity of 12,700 pounds. However, for an impressive towing capability in the West Boylston area, choose the 3.5-liter Eco-Boost V6. Here, the 2021 F-150 tows a maximum of 14,000 pounds.
All new Ford F-150 truck models offer fairly standard truck fuel economy ratings. You can use the following features to improve the fuel economy of your Ford truck:
Grille shutters
An automated air dam
Aerodynamic body
New Ford F-150 Interior Features
The Ford F-150 comes all-new for 2021. It arrives redesigned with upscale materials and a combination of new colors. The all-new center stack includes a navigation system, stereo, and climate controls, right at your fingertips. The 2021 F-150 provides you with a standard eight-inch touchscreen and a SYNC® 4 infotainment system. This popular Ford pickup also comes with an available 12-inch touchscreen and a digital gauge cluster. The latter will show your truck's driving mode and the terrain of the road.
The powerful new Ford F-150 also features an optional Interior Work Surface. You can create a flat working place over the central console. However, some F-150 models do not come with the column-mounted shifter. In this case, you can fold flat the transmission shifter to create a Work Surface. More to this, the 2021 F-150 comes in three footbeds, including an 8-foot, 6.5-foot, and 5.5-foot option. Bed features include Ford's BoxLink, a power tailgate, and stowable ramps for loading.
The 2021 F-150's seating capacity depends on the cab model you choose. The Regular Cab version can seat three passengers, and the SuperCab and Supercrew can seat six. The truck's front seats offer comfortable support. You will also enjoy good outward visibility while driving through Rutland.
In upper trim models, Ford offers the new F-150 with Ma Recline Seats. These seats can fold flat, making it easier to nap in the pickup truck. The F-150 also comes with enough LATCH connectors for rear outboard seats. You will not have problems when installing your family's Child Safety seats.
Technology Updates for the New F-150
The F-150 truck features an intuitive SYNC® 4 infotainment unit. The display has large buttons and crisp graphics for ease of use. Standard infotainment amenities include an eight-inch touchscreen, USB ports, Apple CarPlay and Android Auto integration, Bluetooth connectivity, and a Wi-Fi hotspot. The Ford pickup truck also comes with several available infotainment amenities. They include a 12-inch infotainment touchscreen, a navigation system, an 18-speaker audio system from Bang & Olufsen, satellite radio, and wireless charging for smart devices.
The 2021 Ford F-150 also sports various safety tech and driver-assist features. The Ford F-150's standard safety features include a rearview camera system, Forward-Collision Warning (FCW), animal and pedestrian detection, and a forward automated emergency brake. You can also opt for one or more available safety amenities, including adaptive cruise control, blind-spot monitors, traffic sign recognition, and lane-keep assist. Additional options include Intersection Assist, evasive steering wheel assist, reverse automated emergency brakes, and traction control. The truck also offers technology to improve your view, including rear and front parking sensors, a surround-view camera system for parking, parallel & perpendicular park assist, cross-traffic warning, and lane-departure alert.
We welcome you to our dealership in Holden, MA to view our variety of new Ford trucks for sale. Our experts at Sunnyside Ford will help you pick a suitable F-150 trim level. For more information, please contact our customer care desk or browse our online inventory.