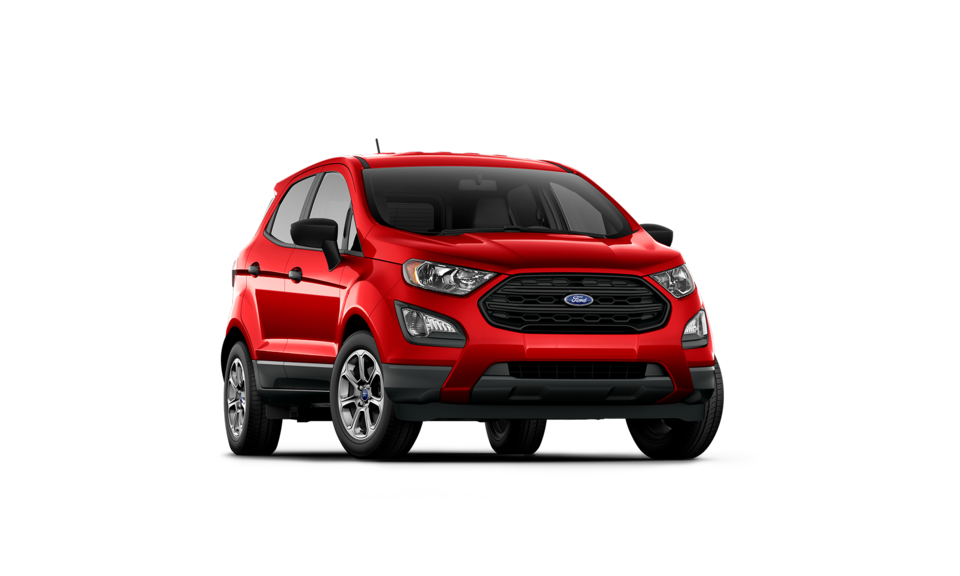 The new Ford EcoSport: good things come in very compact packages
The Ford EcoSport comes with standard all-wheel drive and the ability to tow as much as 2,000 pounds when it's properly equipped. We invite you to get behind the wheel of a new Ford EcoSport and find out just how maneuverable and fuel efficient it really is. The new Ford EcoSport at Sunnyside Ford in Holden MA has a surprising amount of cargo space for its diminutive size and fuel economy is outstanding. Here's why you should hurry in to take a look at the new Ford EcoSport while we still have models available.
Engines and performance
The Ford EcoSport comes with a single four-cylinder engine that's good for 166 horsepower, coupled with a 6-speed automatic transmission and all-wheel drive. The EcoSport is adept at traveling through city streets at slower speeds, maneuvering easily through whatever traffic you face. The suspension is softly sprung so it cushions everyone on board even from harsh road surfaces. One of the Ford EcoSport's key advantages is the ability to tow 2,000 pounds, which is more than most subcompact crossovers can manage.
Fuel economy
The Ford EcoSport will take very good care of you on highways around Worcester and Leominster, MA when it comes to fuel efficiency. At a time when gasoline prices have soared and aren't going down any time soon, it's great to know the Ford EcoSport can give you 23 MPG in the city and a rewarding 29 MPG on the highway. The experts at Car and Driver tested the Ford EcoSport and found it did even better at 30 mpg on the highway.
Interior comfort and cargo
The Ford EcoSport excels in terms of functionality and offers buyers from Shrewsbury and Rutland, MA an outstanding value at its base trim. Passengers in the front row will be pleasantly surprised at how much room is available. The EcoSport has 20.9 cubic feet of space in back of the second row and 50 cubic feet behind the first row. Those are impressive totals for a subcompact crossover. In addition, the EcoSport has a side-hinged cargo door that opens to the side and can give you some unique access to the rear cargo area.
There is an available leather-wrapped steering wheel and in the SES trim, the cabin gets dressed up considerably with exclusive leather-and-cloth seats along with copper-colored trim pieces. The EcoSport holds more carry-on suitcases than some competitors and offers you a variety of interior storage spaces. There's a sealable vent in the glovebox that connects with the EcoSport's air conditioner to create a climate-controlled compartment.
Infotainment technology
The Ford EcoSport comes with a standard touchscreen display, two USB ports, a Wi-Fi hotspot and a sound system with six speakers. You might find an EcoSport with the available 8-inch touchscreen display and navigation along with Apple CarPlay® and Android Auto™ smartphone integration. Upgraded stereo systems can give you 7 speakers or even 10 for a fuller sound. Other available features include remote start, automatic climate control, proximity keyless entry and a moonroof.
Safety technology
Feel better knowing that every model of the Ford EcoSport comes with a rear view camera, allowing you to back up more safely. Look carefully and you might find a new model with blind-spot monitoring to alert you when another vehicle slips into a position next to you that you can't easily see. We encourage buyers from nearby communities like West Boylston MA to explore the new Ford EcoSport and test drive the one you like best at Sunnyside Ford in Holden MA.